Here is how it works
It Starts with Neighbors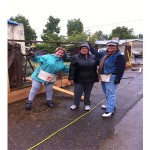 Projects provide an opportunity for the applicant and their neighbors to work together, share and build relationships to last a lifetime. Neighbors within a target neighborhood meet monthly and discuss their neighborhood needs.  They apply for assistance and commit to participating on their own as well as their neighbors' projects. They provide the first portion of project materials, family members to volunteer, and meals for volunteer groups. Residents are key to achieving a more cooperative and attractive community.
Program Directors, made up of neighborhood resident representatives, review all activated applications and make decisions on acceptance, scope of work to be done, project date, and outlines of the applicant's responsibilities. Volunteer neighbors and friends are mobilized to address all aspects of project completion.
All applicants must make a commitment to actively participate on their project as well as others. Two validated "Participation Certificates," are issued for involvement in various FUND Inc. related activities, and are required to activate an application.
Add Volunteers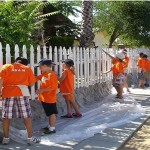 We welcome and encourage individuals, youth groups, families, employee groups, and community service groups throughout our City and beyond to volunteer with FUND, Inc. and become "hands on" partners to assist in neighborhood projects. No experience is necessary. As projects are in progress, volunteer days are scheduled (typically on Saturdays and during spring/summer breaks) and volunteers are mobilized to help. Projects involve "construction type" work and can range from building a fence, painting a house, demolition, hammering, flooring, landscaping, and more.
The volunteer work day is arranged to accommodate the volunteer group. As a volunteer, you will meet the families being served and work alongside them. Volunteers are encouraged to talk with the neighbors, introduce themselves, and share their experiences. (Contact us for more information)
Connect with Churches and Community Organizations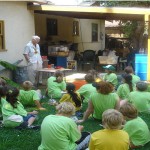 Local churches and extant community organizations provide love, hope and peace to support the neighborhood families. Their ministry is an invaluable service that is foundational to our mission and purpose. Churches bring hope and support to the families in the neighborhoods. (Contact us to see how your church or organization can get involved)
Engage the Business Community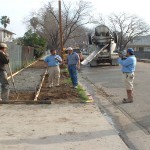 Community Partners are invaluable to our mission. The goods, services, labor and cash contributions represent community investments paying off for long-term, city-wide change.  (see Community Partnerships)