HOW YOU CAN HELP

Partners from all walks of life can be "hands on" partners volunteering on year-round projects.  Contact us to find out how you or your group can help.
Donations of goods and services are a tremendous asset to the construction process.
Become part of the FUND Family by serving on our committees and/or Board of Directors.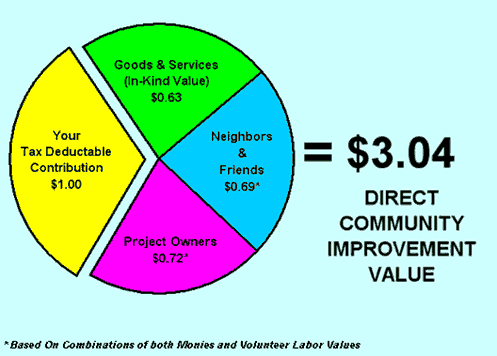 As a privately funded organization, FUND, Inc. relies on the generosity of individuals, businesses, foundations, and other community partners to provide the necessary resources to serve these families.
We work hard to stretch financial gifts to maximize the effect on the community.  Each dollar received is combined with in-kind contributions and volunteer labor, resulting in an increased Community Improvement Value.  The result is a true "Neighbors Helping Neighbors" partnership with everyone contributing in accordance with their individual abilities to do so.  The chart demonstrates the maximization of financial gifts.
Will you please consider a one-time financial gift or recurring monthly donation to support our programs?  You can feel confident that your $20, $50, $100 monthly gift will make a difference for families in your community.